Modern Foreign Language (MFL)
We have implemented French into the school curriculum. Every class will study a variety of French themes and traditions by learning new words, phrases and the correct way to pronounce words just like the French do.
We also ask children to do a little research into the French langauge by running a weekly competition. We choose a phrase in French and children have to write the meaning in English and put it in the box for entry.
Phrase of the week...
Ordinateur
Previous phrases:
Quelle heaure est-il?
Ma coulere preferee
Mon animal preferee
Laisse Tomber
Ou est le centre-ville?
La Boulangerie
Bonne Annee
Joyeax Noel
Des magasins
Une banque
Je suis fatigue
Bonne Nuit
Bon apres-midi
Je suis enchante
Je m'appelle
Comment t'appelles-tu
excusez-moi
comment allez-vous
Je ne parle pas français
The French Flag - Do you know what each colour of the flag represents?

The Outline of France - Do you know any cities or towns in France?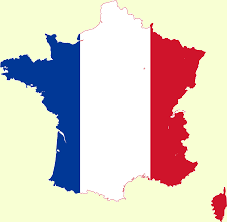 French Foods - Some of the French's favourite tastes. Can you name the foods below?