People Who Help Us
Nursery had a visit from a nurse. Recently we have enjoyed pretending to be doctors and nurses during provision time. The nurse helped us look after some of our poorly teddies and even helped make Mrs Kelly feel better after she had an accident in nursery.
We learnt lots about nurses and even got to look at their uniform.
Overgate Reindeer Run
Nursery and Reception took part in Overgate's charity event the Reindeer Run. The children had lots of fun whilst raising money for an important cause.
The Foundation Stage unit raised over £500!
The children have been transforming our outdoor house this term! Nursery decided to clean the house for Goldilocks or one of the three bears. The children where developing their gross motor skills by painting the house and mopping the roof to make sure it was super clean!
We have been learning about the number four this term.
The children have been practicing their number formation through our number rhyme ' down and across and down some more, that's the way we make a four.'
The children have also been practicing counting 4 objects as well as matching an amount to a numeral.
Feelings and Emotions
Nursery have been working on managing their feelings and behaviour this half term. The children took part in a friendship challenge. The children where linked to their friend through a friendship chain.
They had to work in provision with their partner without their chain breaking!
The Gingerbread Man
Nursery were investigating what would happen to the Gingerbread Man if he fell into the river or if he tried to swim across without any help from the fox. We then decided to test what would happen if we turned the river into different liquids such as syrup, oil, melted marshmallow and milk . The children made predictions on what might happen to the Gingerbread Man once we put him in the liquids.
Ava thought the Gingerbread Man would "sink" when we placed him in the water.
Sophie thought the Gingerbread Man would 'float down' in the milk.
In nursery we have been learning about traditional stories using tales-tool kit symbols.
One of the stories we have enjoyed learning about is The Three Little Pigs.
We decided we would make our own house for The Three Little Pigs using marshmallows, sugar cubes, jelly and sweets. Unfortunately we had a visit from the Big Bad Wolf who tested our houses to see whose was the strongest! We had lots of fun and found that the sugar cubes made the strongest house!
Outdoor Learning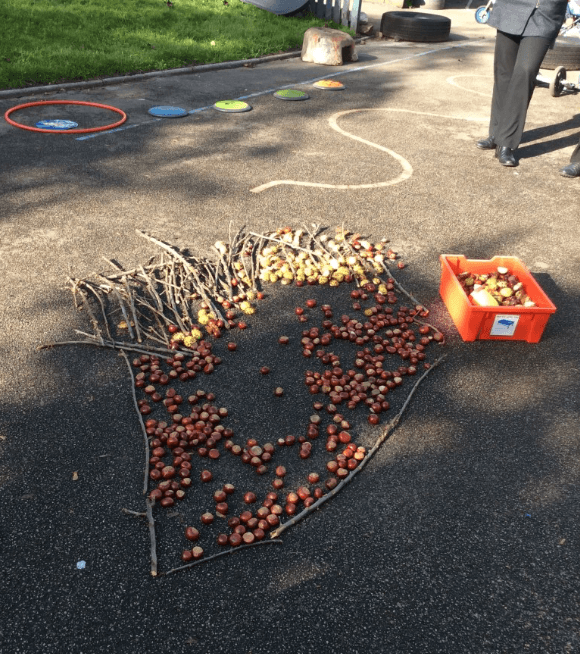 Nursery and Reception have been busy doing outdoor learning. We have used sticks and conkers to create large pieces of collaborative art- work. The children used the sticks and conker cases for the spikes on the hedgehog as they thought they were spiky too! They used lots of language to describe the shape, size and texture of the conkers, conker shells and sticks.
The children have also enjoyed working together to devise their own obstacle course. They have worked well together to design it and then cheer each other on as they complete the challenges!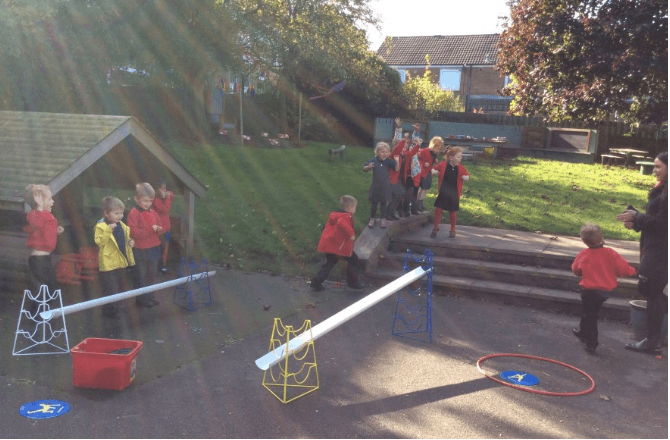 In Nursery we have been learning about the 'Little Red Hen'.
We had a visit from Farmer Ted who had lost his Little Red Hen. Nursery wanted to help him by making some lost posters. On Tuesday we received a letter from the Little Red Hen who was lost in our nursery. We followed some clues using magnifying glasses. We found the Little Red Hen outside and decided that we should bring her into our classroomand look after her. The Little Red Hen had lots of fun reading books, drawing and joining in our circle time.
If you are worried about anything when you are online click the HELP internet safety button.