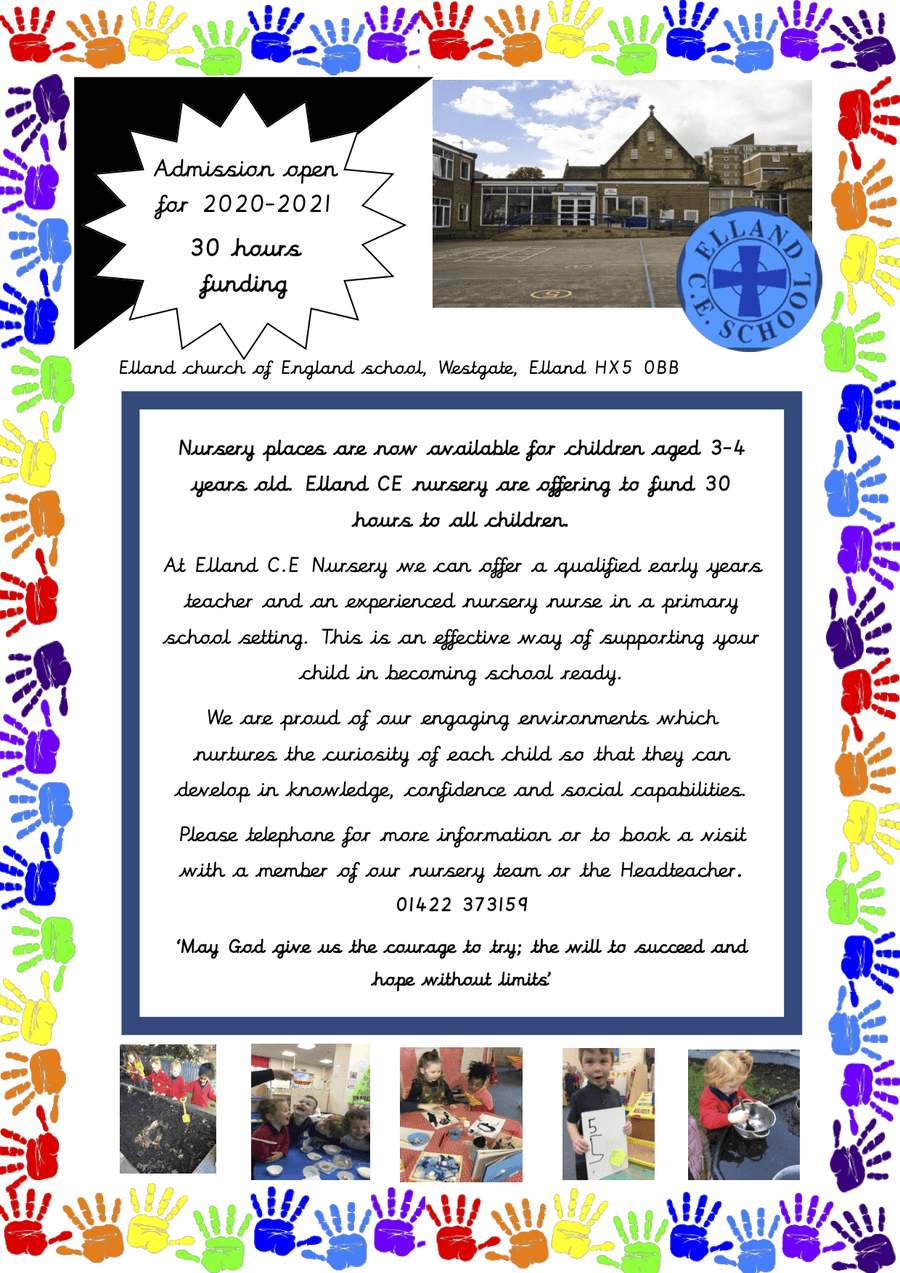 Washing Hands
In Nursery children learnt the importance of washing their hands to stop germs from spreading. Nursery children understand that germs can make us poorly even though we cannot see them. We completed a simple science experiment using herbs, water and some hand soap.
The children firstly observed what happened when they did not wash their hands with soap. One child placed their finger into the herbs without any soap. We noticed that the herbs did not separate, they remained the same. This represented the germs on our hands and how they had not been cleaned away.
Secondly the children observed what happened when they washed their hands with soap. The herbs separated when we used hand soap. This represented the germs disappearing when we use soap.
Please remind your children the important of washing their hands and staying safe. You can always re-create this experiment at home!
Miss Roberts and Mrs Kelly know that nursery pupils will continue to make good choices and work hard from home. We hope to see you all very soon, for now keep doing your busy jobs from home and impressing your grown-ups.
Whilst at home you may want to learn some fun yoga techniques which are great for your body and mind. Please follow the link and select which session you would like to do and remember to have fun!
The children helped the adults in nursery to make a small world farm. The children have been learning the correct names for young farm animals.
The children then enjoyed singing Old McDonald had a farm.
In nursery this term we are learning about farm animals. The children had to complete our nursery challenge of pinning the tail on the pig.
The children had to work in partners. One child was blind folded and had to follow their partners instructions.
Nursery took the opportunity of exploring the rain this week. Nursery used powder paint to paint puddles and the outdoor area. Children mixed their colours together and shared resources. We then had lots of fun jumping in muddy puddles just like Peppa pig.
Nursery world book day outfits.
Nursery enjoyed dressing up as characters from their favourite stories.
In nursery we are learning lots about characters using tales toolkit. This was a great opportunity for children to explore who characters are in their favourite books.
" I am Little Red Riding Hood, I'm going to my grandma's. The Big Bad Wolf says, 'Get in the cupboard'," said one child.
"Harry Potter, Dobby go Harry Potter," said another child.
Magical Doors
Nursery enjoyed reading the story Journey by Aaron Becker as part of our world book day celebrations. Nursery decided they would like to create their own magical door like the young girl in our story. The children used chalk to help both their fine and gross motor skills. The children chalked their own magical doors in our outdoor unit.
In Nursery and Reception we completed a team work challenge.
To our surprise we found some blue penguin eggs in our foundation stage unit.
Nursery and Reception worked in small groups to keep their penguin egg safe and warm until their parents returned to collect them.
All children had to work in teams to ensure their egg did not crack or become cold.
The children had to communicate effectively to ensure that everyone was involved in the challenge.
Our children had great imaginations by building houses, cars and caravans for their penguin egg.
The children brought their egg's everywhere!
Unfortunately the eggs had to return to Antarctica so that they could reunite with their colony.
Phunky Foods
On Tuesday 28th January Nursery and Reception were visited by a lady from Funky Foods. We found out that we need to eat at least 5 portions of fruit and vegetables everyday and that we need to eat the rainbow. This means that we need to eat a red, yellow, orange, green and blue/purple piece of fruit or vegetable everyday! The children then had the opportunity to use different fruit and veg to make a rice cake face. We were impressed with how the children were willing to try new fruit and vegetables and tell us which ones they liked and didn't like. Many of the children discovered new tastes they enjoyed and even the staff learned something new!
Visiting The Life Bus
On Wednesday 22nd January Nursery and Reception got to visit Harold the Giraffe on his Life Bus as part of the SCARF curriculum. We learned about the different parts of our body and then helped Harold to prepare for a sleepover at his grandparents house. We were impressed with the children's knowledge of the body and their confidence in sharing this with their friends.
Travelling!
The Foundation Stage has been focusing on 'travelling' during P.E this term.
In Nursery children are learning to become independent when getting ready for P.E as well as following simple instructions. The children have learnt how to safely move around the hall and use apparatus.
During P.E the children have learnt how to land a jump the correct way and how to travel across equipment and on the floor in various ways such as crawling on hands and feet, sliding on their tummies and backs, side steps and walking backwards.
Friends
In Nursery we have been talking about friends and why they are important to us.
The penguin in our story this term; 'Lost and Found' was lonely and wanted a friend. This made the children feel sad.
We decided to make friendship bracelets for our friends in Nursery and tell them why they were important to us. The children asked their friend what colour beads they would like on their bracelet and helped them put it on once it was finished. The children were working on making relationships but also strengthening their fine motor skills by threading beads on to string!
Winter
In nursery we have been exploring the season 'winter' and what changes have happened outside to our environment.
The children went on a winter walk and noticed that the leaves had fallen off the trees and that it was very cold.
"It's freezing" said Mitch.
We talked about wearing warm clothes during winter and how it stops us from feeling cold.
We decided to complete an ice challenge! The children had to find the fastest way of melting their ice cube. We learnt that when ice gets hot it starts to melt and turn into water. Some children melted the ice cube in their hands, under hot water and on top of the radiator.
The children enjoyed playing with ice cubes so we decided to try and melt ice with coffee, salt, sand, washing up liquid and sprinkles. The children made predictions as to what might happen to the ice!
"It will just turn to coffee" said Whylie as we added coffee to our ice cubes
"It will melt" said Carter as he squeezed washing up liquid on to ice
"It's freezing" said Ava as she held an ice cube.
Lost And found
In nursery this term we have been learning about penguins through our story 'Lost and Found' written by Oliver Jeffers.
We found a lost penguin that needed a friend. Nursery looked after the penguin and brought it everywhere, even to dinner!
The children have investigated and learnt about Emperor Penguins and how they live in the coldest place on earth, Antarctica!
Some of the children in nursery explored how to balance a Penguin chick on their claws like Daddy penguins in Antarctica.
"Daddy penguins put it under their tummy and on their claws" said Renee when asked how Daddy Penguins look after their eggs.
"I'm waddling, cos penguins can't fly" said Ava.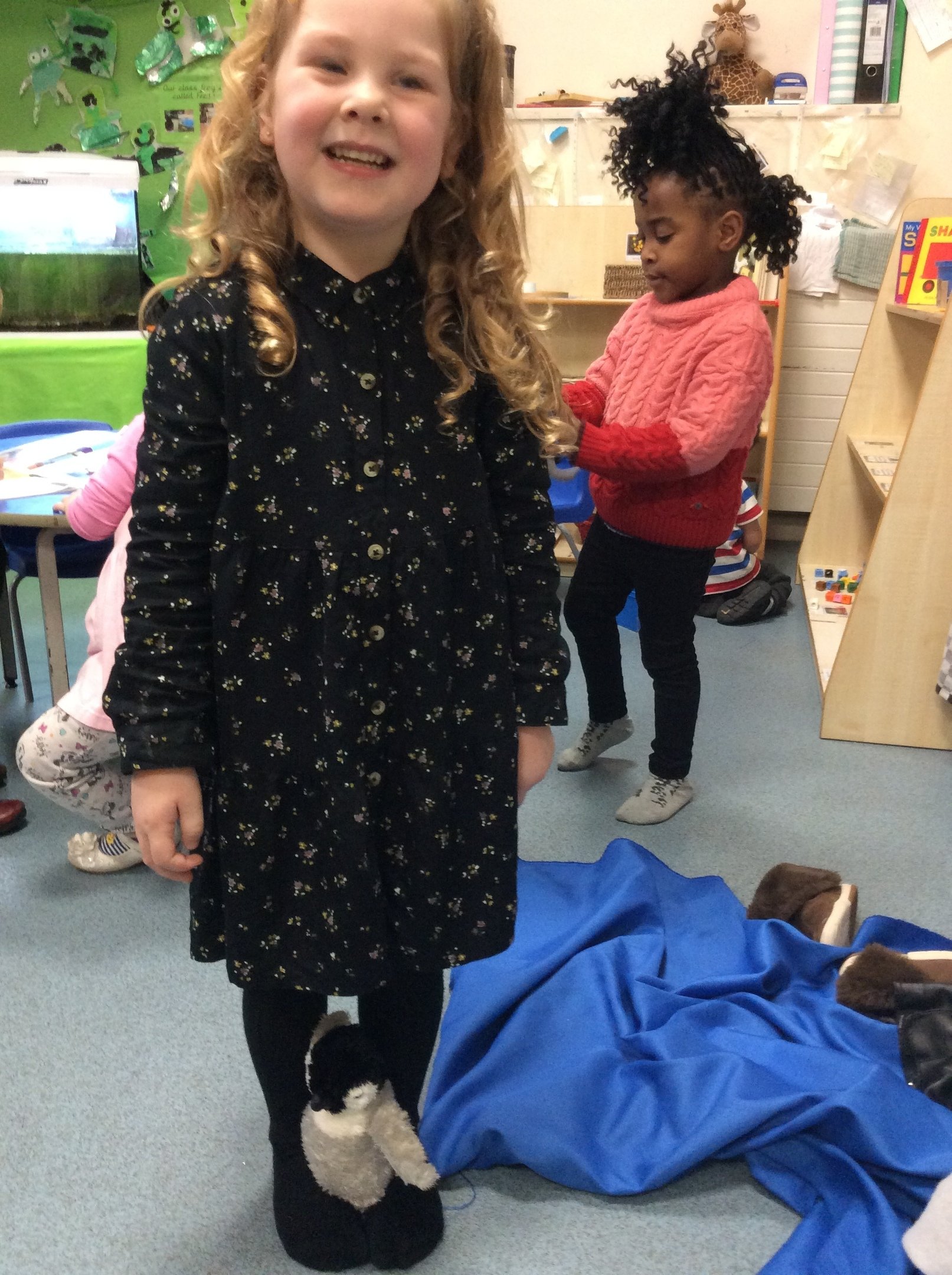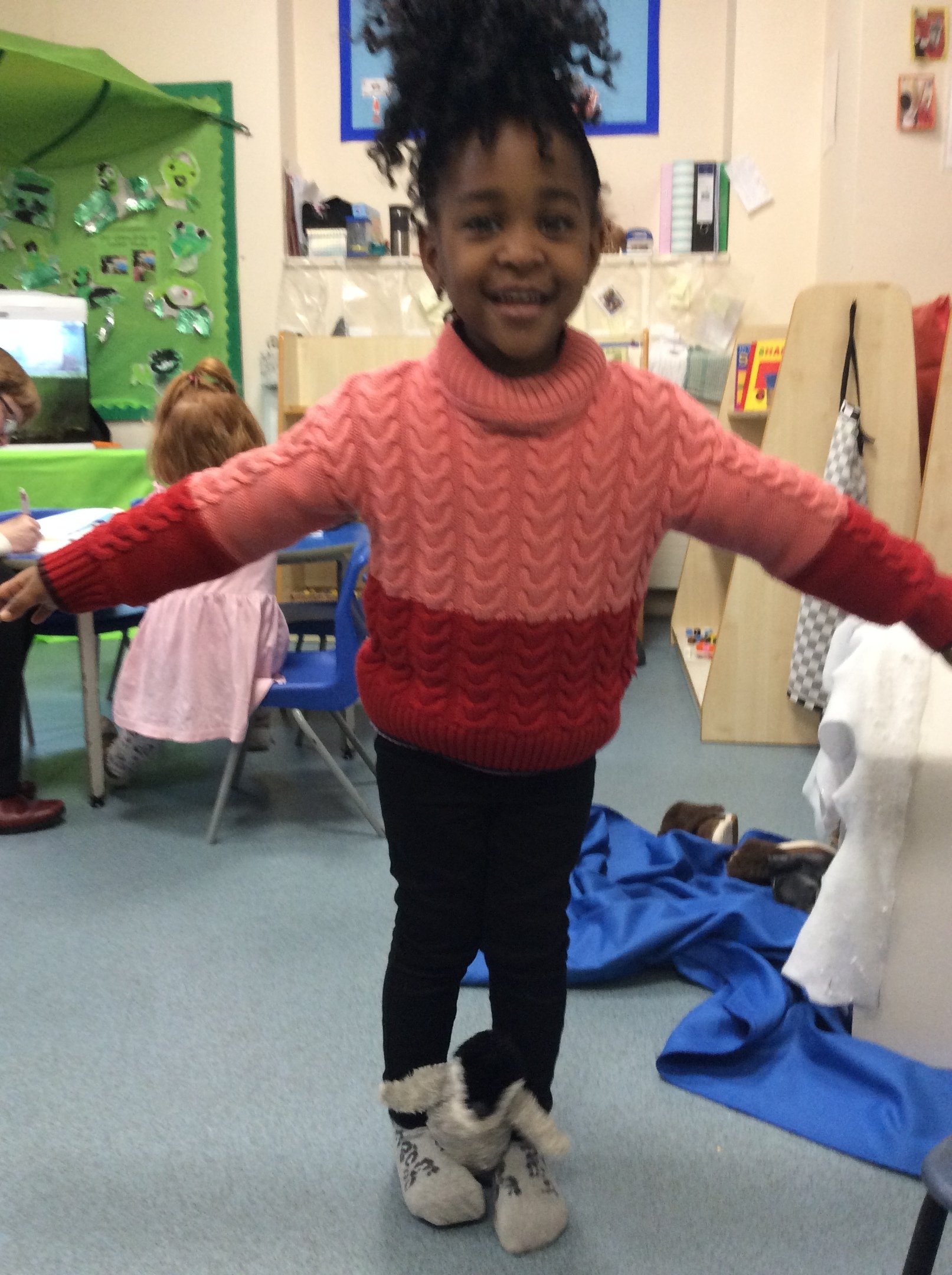 People Who Help Us
Nursery had a visit from a nurse. Recently we have enjoyed pretending to be doctors and nurses during provision time. The nurse helped us look after some of our poorly teddies and even helped make Mrs Kelly feel better after she had an accident in nursery.
We learnt lots about nurses and even got to look at their uniform.
Overgate Reindeer Run
Nursery and Reception took part in Overgate's charity event the Reindeer Run. The children had lots of fun whilst raising money for an important cause.
The Foundation Stage unit raised over £500!
The children have been transforming our outdoor house this term! Nursery decided to clean the house for Goldilocks or one of the three bears. The children where developing their gross motor skills by painting the house and mopping the roof to make sure it was super clean!
We have been learning about the number four this term.
The children have been practicing their number formation through our number rhyme ' down and across and down some more, that's the way we make a four.'
The children have also been practicing counting 4 objects as well as matching an amount to a numeral.
Feelings and Emotions
Nursery have been working on managing their feelings and behaviour this half term. The children took part in a friendship challenge. The children where linked to their friend through a friendship chain.
They had to work in provision with their partner without their chain breaking!
The Gingerbread Man
Nursery were investigating what would happen to the Gingerbread Man if he fell into the river or if he tried to swim across without any help from the fox. We then decided to test what would happen if we turned the river into different liquids such as syrup, oil, melted marshmallow and milk . The children made predictions on what might happen to the Gingerbread Man once we put him in the liquids.
Ava thought the Gingerbread Man would "sink" when we placed him in the water.
Sophie thought the Gingerbread Man would 'float down' in the milk.
In nursery we have been learning about traditional stories using tales-tool kit symbols.
One of the stories we have enjoyed learning about is The Three Little Pigs.
We decided we would make our own house for The Three Little Pigs using marshmallows, sugar cubes, jelly and sweets. Unfortunately we had a visit from the Big Bad Wolf who tested our houses to see whose was the strongest! We had lots of fun and found that the sugar cubes made the strongest house!
Outdoor Learning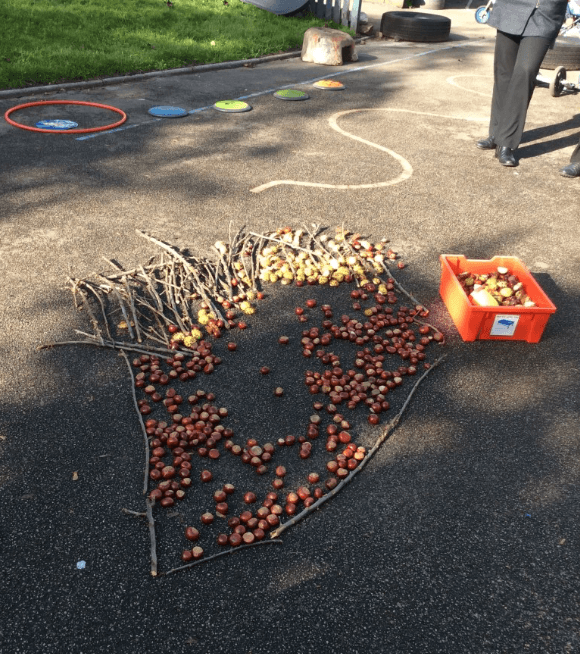 Nursery and Reception have been busy doing outdoor learning. We have used sticks and conkers to create large pieces of collaborative art- work. The children used the sticks and conker cases for the spikes on the hedgehog as they thought they were spiky too! They used lots of language to describe the shape, size and texture of the conkers, conker shells and sticks.
The children have also enjoyed working together to devise their own obstacle course. They have worked well together to design it and then cheer each other on as they complete the challenges!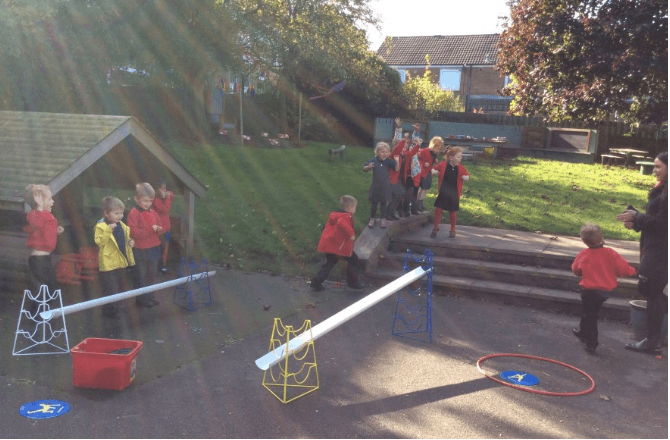 In Nursery we have been learning about the 'Little Red Hen'.
We had a visit from Farmer Ted who had lost his Little Red Hen. Nursery wanted to help him by making some lost posters. On Tuesday we received a letter from the Little Red Hen who was lost in our nursery. We followed some clues using magnifying glasses. We found the Little Red Hen outside and decided that we should bring her into our classroomand look after her. The Little Red Hen had lots of fun reading books, drawing and joining in our circle time.
If you are worried about anything when you are online click the HELP internet safety button.