I

n Nursery and Reception we completed a team work challenge.
To our surprise we found some blue penguin eggs in our foundation stage unit. Nursery and Reception worked in small groups to keep their penguin egg safe and warm until their parents returned to collect them. All children had to work in teams to ensure their egg did not crack or become cold. The children had to communicate effectively to ensure that everyone was involved in the challenge.
Our children had great imaginations by building houses, cars and caravans for their penguin egg. The children brought their egg's everywhere!
Unfortunately the eggs had to return to Antarctica so that they could reunite with their colony.
Reception have been learning about the moon in Science this week. We tried some astronaut food - we ate an astronaut ice cream sandwich and tried some freeze dried apple, blueberries, strawberries and raspberries.
The children found it very chewy and thought it was strange having crunchy ice cream!
Phunky Foods
On Tuesday 28th January Nursery and Reception were visited by a lady from Phunky Foods. We found out that we need to eat at least 5 portions of fruit and vegetables everyday and that we need to eat the rainbow. This means that we need to eat a red, yellow, orange, green and blue/purple piece of fruit or vegetable everyday! The children then had the opportunity to use different fruit and veg to make a rice cake face. We were impressed with how the children were willing to try new fruit and vegetables and tell us which ones they liked and didn't like. Many of the children discovered new tastes they enjoyed and even the staff learned something new!
Visiting The Life Bus
On Wednesday 22nd January Nursery and Reception got to visit Harold the Giraffe on his Life Bus as part of the SCARF curriculum. We learned about the different parts of our body and then helped Harold to prepare for a sleepover at his grandparents house. We were impressed with the children's knowledge of the body and their confidence in sharing this with their friends.
Overgate Reindeer Run
Nursery and Reception took part in Overgate's charity event the Reindeer Run. The children had lots of fun whilst raising money for an important cause.
The Foundation Stage unit raised over £500!
Outdoor Learning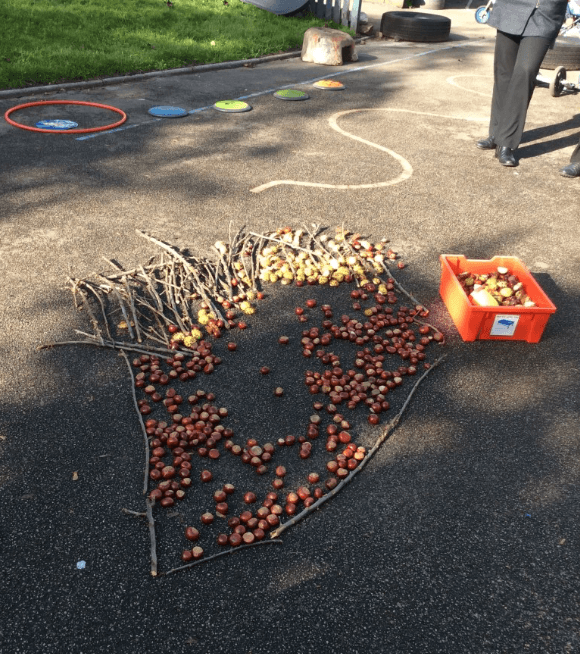 Nursery and Reception have been busy doing outdoor learning. We have used sticks and conkers to create large pieces of collaborative art- work. The children used the sticks and conker cases for the spikes on the hedgehog as they thought they were spiky too! They used lots of language to describe the shape, size and texture of the conkers, conker shells and sticks.
The children have also enjoyed working together to devise their own obstacle course. They have worked well together to design it and then cheer each other on as they complete the challenges!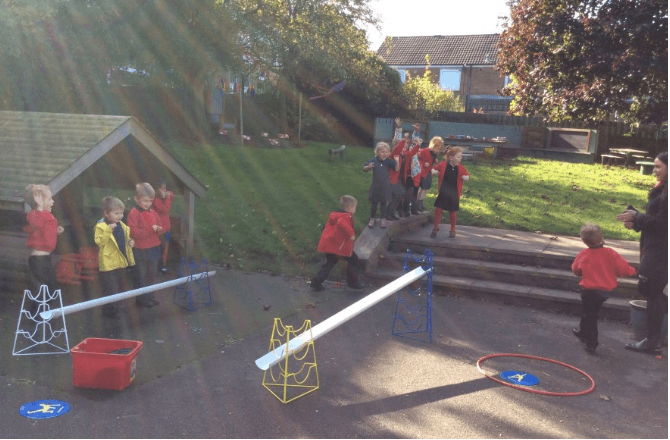 If you are worried about anything when you are online click the HELP internet safety button.