Early Years now have an Instagram account. Follow the link to see what they are up to each week! Click here!
What we've been doing…
Can a Biscuit Ever Be Safe?
Here is a clear and beautiful example of child initiated play. This half term the children have enjoyed reading the book 'Biscuit Bear' written by Mini Grey. As part of our curriculum we discussed the question 'Can a biscuit ever be safe?following on from this discussion some of the children decided to create somewhere safe for Biscuit Bear to live using junk modelling. One child planned our their ideas first before finally creating their final product. WOW!
Patterns Patterns everywhere
Last week our mathematics focus was patterns. We learnt how to make a simple pattern using colours, fruit, counting bears and other loose objects!
Bonfire night celebrations
As part of our curriculum the children have been learning about different celebrations that take place in our country as well as across the globe. This week we have discovered the meaning behind bonfire night and why it is such an important part of history.
We have shaped our bodies and travelled in various creative ways pretending to be fireworks blasting off in the night sky. The children enjoyed this activity and were able to express and demonstrate their ideas through dance.
The children have also created firework paintings by carefully selecting illuminous colours and mastering the technique of flicking their paint brush to cause an effect.
We have also created our very own sparklers using bread sticks, melted chocolate and sprinkles to replicate a sparkler. This activity focused on following instructions and managing personal hygiene. We followed up this activity by allowing the children to take their sparklers outside and pretend to write letters and shapes in the sky like they would with a real sparkler.
We discussed fire safety and stressed the importance of keeping ourselves safe when visiting bonfires and watching fireworks. The children then helped to make a pretend bonfire outside in our outdoor area!
Adult initiated activity playing and exploring UTW, EAD, CL, PSED and PD
Stirring Spells
As part of our 'Messy Busy Jobs' the children cooked up a spell using a range of pumpkins. We added a range of ingredients to create a frothy potion. The children were able to use their imaginations to produce an idea for the outcome of their spell such as 'this potion will make you freeze' and 'my potion will turn you into a frog'.
Our nursery children also enjoyed the process of mixing and stirring the solution, as well as using descriptive language to describe what they could see.
Pumpkin Carving
As part of our Halloween celebrations our students thoroughly enjoyed carving pumpkins.
They were able to explore the pulp and seeds through messy investigation using interesting language to describe textures and smells. This activity also promoted teamwork and sharing skills as children had to take turns and discuss what face their pumpkin would have.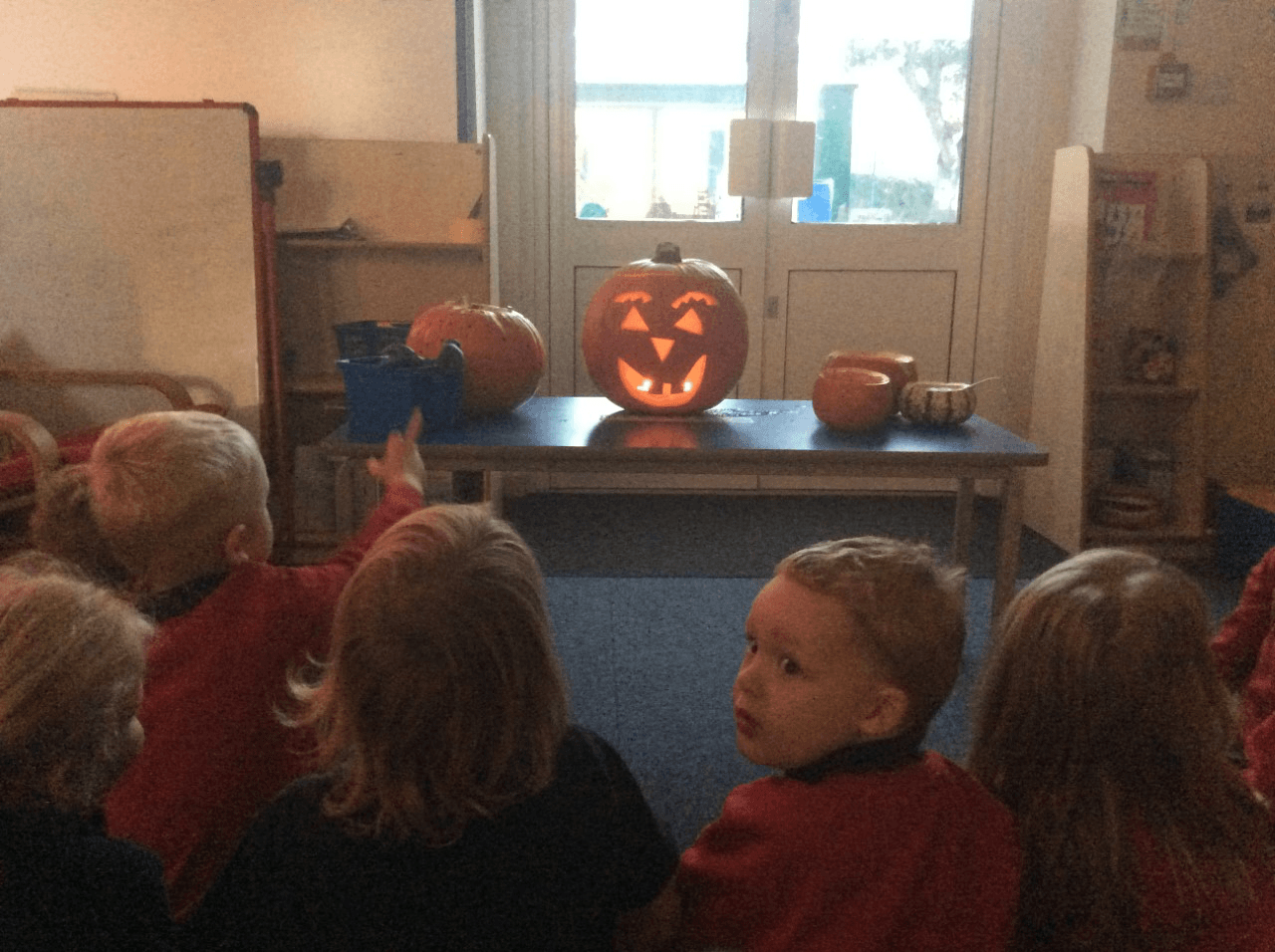 Diwalli Rangoli Patterns
This week the children in early years have enjoyed learning about the Hindu celebration Diwalli.
As part of the celebrations, we encouraged children to explore and create their own rangoli patterns using pasta.
Winnie the Witch Big Draw
This week our big draw was based around our spooky celebrations.
The children found a broomstick in our classroom and discussed who they thought it belonged too. With further investigation we found out the broom belonged to Winnie the Witch and wanted to give it back to her. We created some wanted posters and learnt how to draw a witch.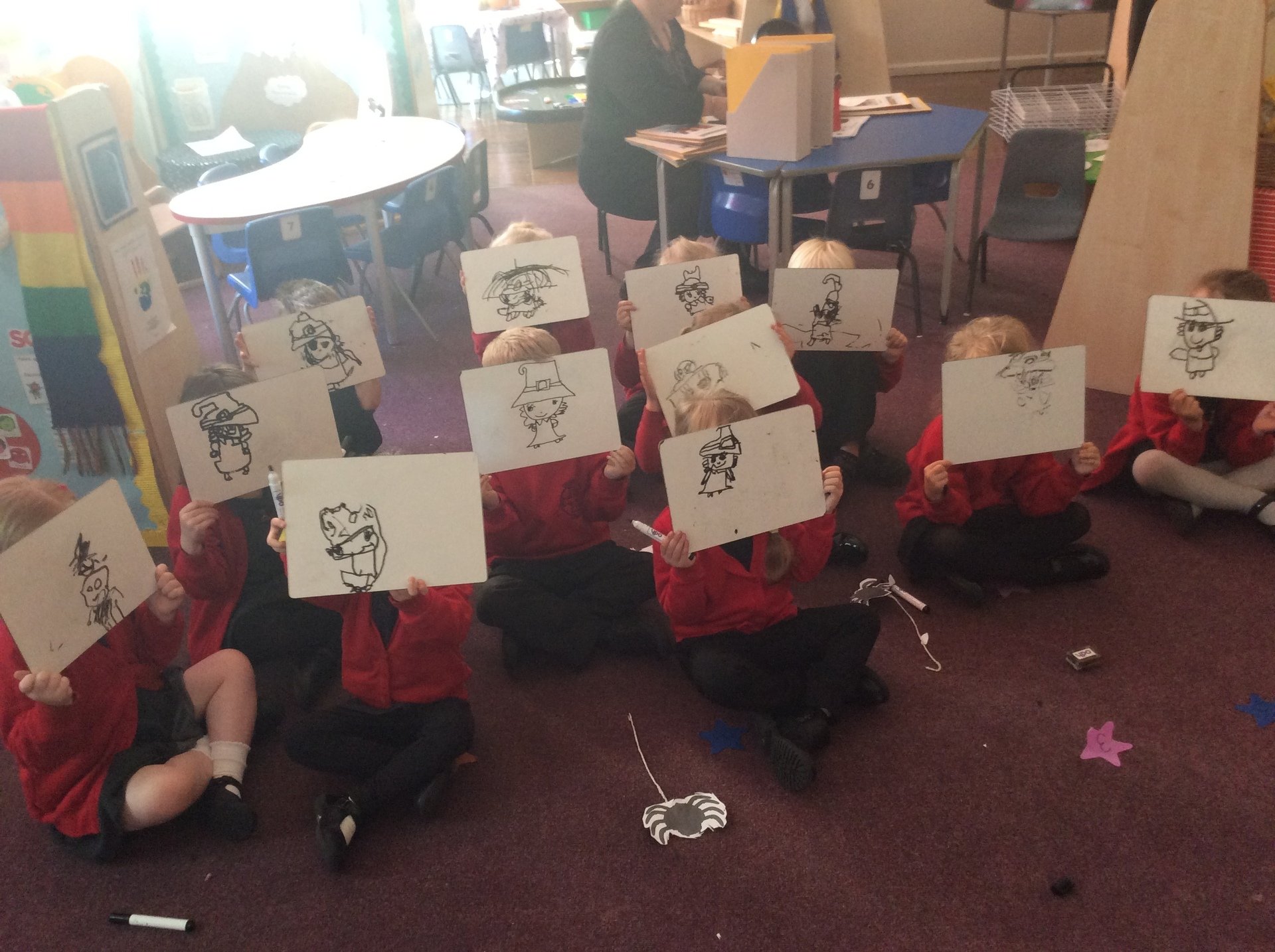 Fine Motor Pumpkin Challenge
The children enjoyed using hammers to place golf tees into the large pumpkin. This activity also focuses on children's hand and eye co-ordination as they have to carefully assess where to place the golf tee before using the hammer.
Spooky Potions
During our Busy jobs some of our children were inspired to create their very own spooky potions based on our activity from the Halloween get busy with me session. The children selected a range of resources to use as ingredients for their spectacular potions.
One potion turned you into a dragon if you drank it!
Gold Balloon Reward
This term the children chose to come to school in fancy dress for their golden balloon reward.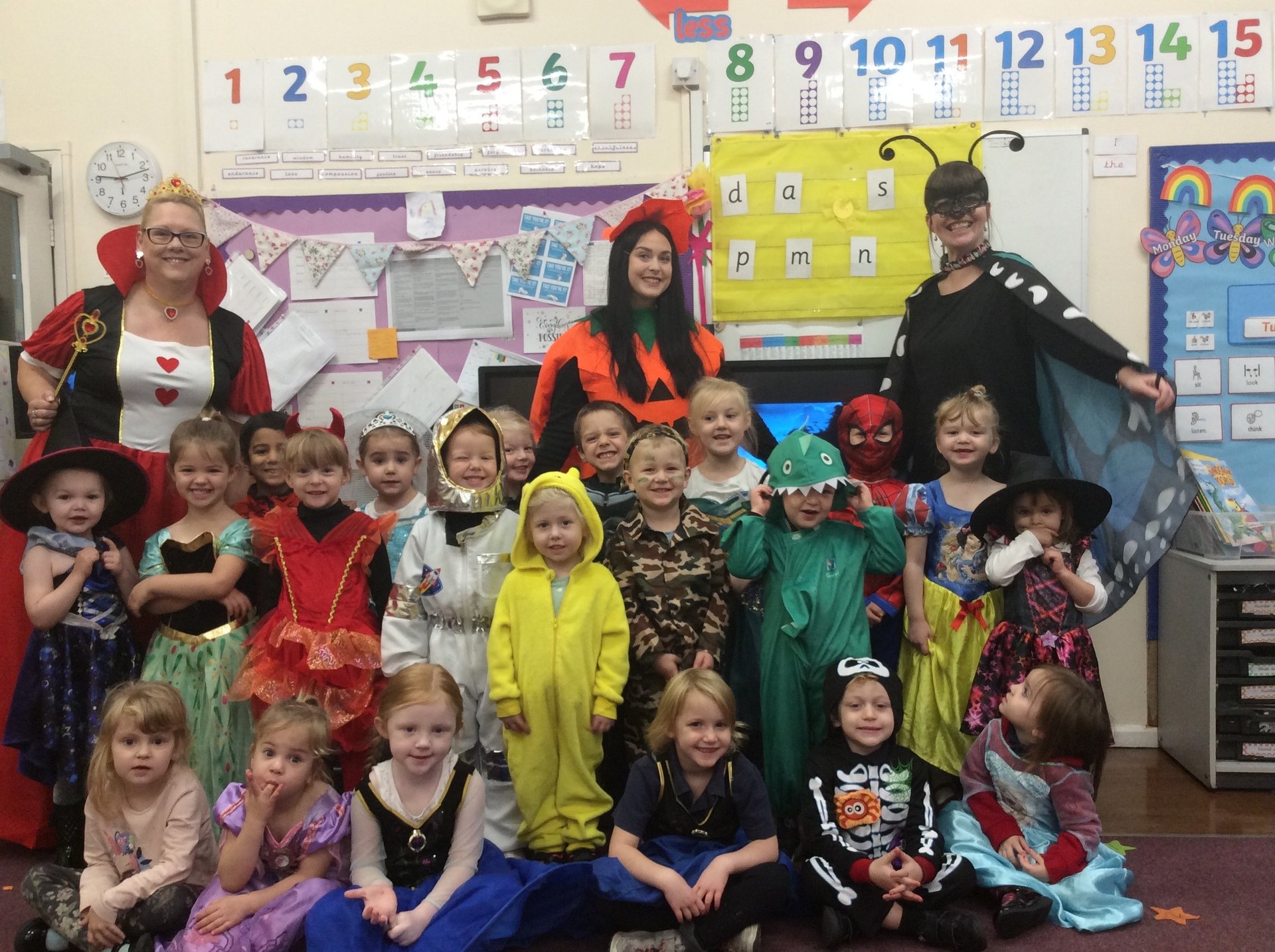 Halloween 'Get Busy with Me' Morning
This half term Early Years hosted their very first Get Busy with Me morning. The idea of this event was that parents and carers were able to experience some of the activities their children take part in during 'Busy Jobs' at Elland C of E school. We had four activities planned including potion making, ghostly biscuits, magic wands and pumpkin sun catchers.
One parent said "I really enjoyed getting to see all the wonderful ways my daughter gets to learn through play'
Pumpkin Sorting
This week in Early Years we have been learning all about size using a range of pumpkins. The children sorted the pumpkins from smallest to largest comparing each pumpkin as they arranged them. We then asked our students to cut out the pumpkins from smallest to largest and order them onto black paper.
This activity not only focused on mathematics but encouraged independent use of scissors and a broader range of vocabulary based on size.
Books Glorious Books
We have clearly founded a love for books. During our busy jobs we managed to capture a picture of this special moment! Our students are clearly demonstrating their ability to get lost in a good book. They are focused on their book and have shown the ability to look at the illustrations and print, as well as carefully demonstrating how to turn the pages.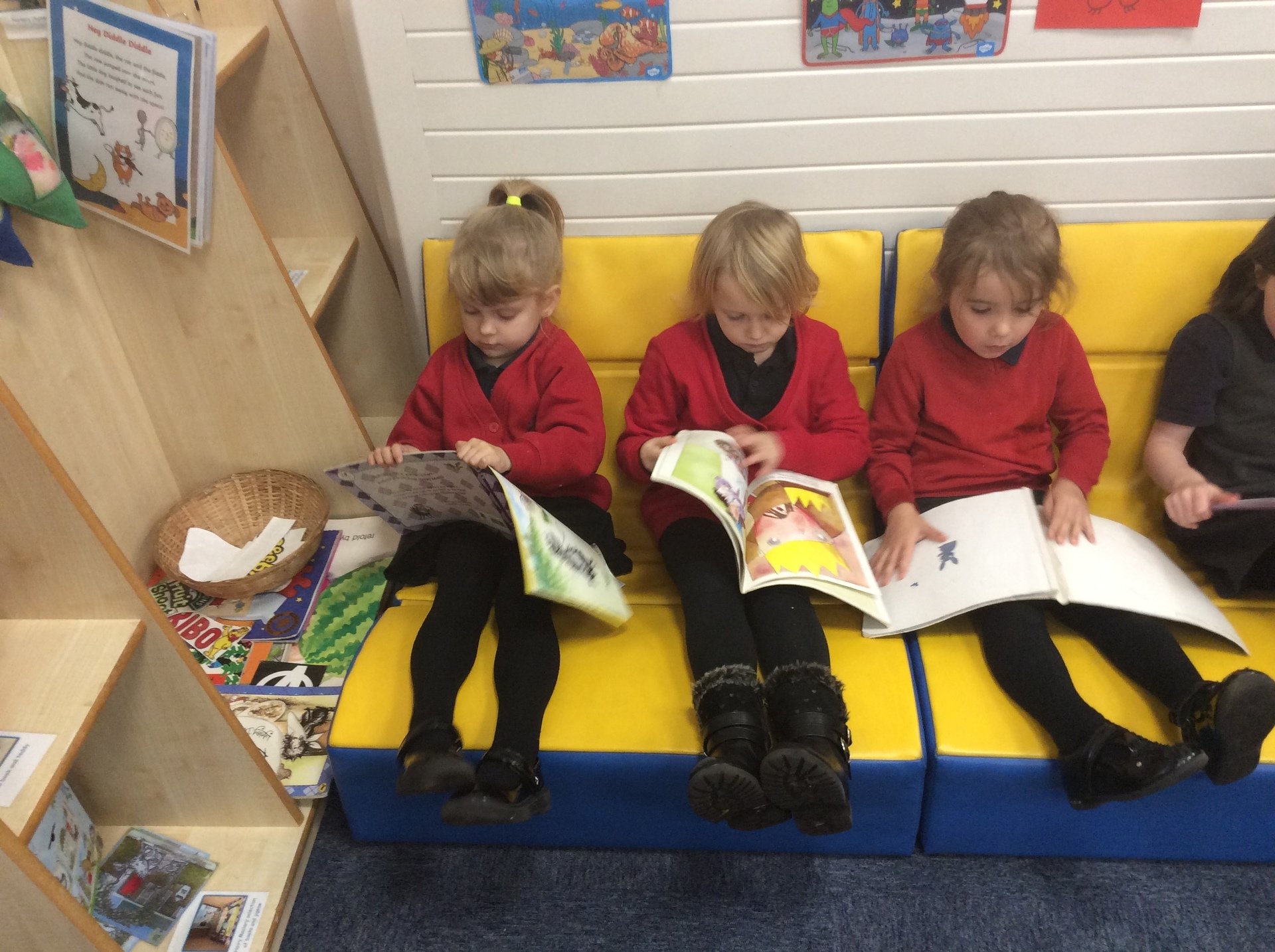 Spooky Season Is Here
Today the children arrived to school to find some pumpkins placed on our investigation table. This activity was created to encourage descriptive language and for our students to speak in full sentences.However, the adults noticed that some children wanted to complete a still drawing of the pumpkins or mark make their thoughts!
Incy Wincy Spider
The adults in Early Years have responded to our children's next steps by teaching them the skill of using scissors correctly to cut through paper.Using scissors helps children develop their fine motor muscles and is a great skill to have when creating in the expressive art and design corner.
Ball Skills
During our P.E sessions this term we have been focusing on small and large ball skills. Today's session was based around co-ordination and balancing skills. P.E is a great way to focus on our physical development as well as the importance of teamwork.
Mathematics During Play
Here are some great snippets of math's investigation during our busy jobs. This term we have focused on matching, sorting and patterns. The children then explored these concepts further during their child-initiated play.One child sorted all of the bears based on colour and discussed which group had the most and weighed more.
Matching and Sorting
Our mathematics topic has been focused on the concepts matching and sorting.
We have enhanced our provision by creating a new challenge area which allows students to explore matching in a play-based way.
Our students have been matching the ten frames' cars to the numicon houses during their 'busy jobs'. They have further extended their learning by adding counting bears and numerals to stretch their knowledge of matching and sorting.
Autumn Arts and Craft Morning
Today Early Years put on their crafty caps and became artists for the morning. We have been learning all about autumn and investigating animals who hibernate during the winter months. Following our children's interests, we split into 3 groups and looked closely at pictures of squirrels, badgers and hedgehogs.
Our students then got busy drawing features of their chosen animal, putting their imagination to paper. They carefully looked at images of their animal and discussed features and described their animal. "mine is spikey" "mine has a stripey face"
We then discussed how we could add texture to our drawing bringing it to life.
This was our first craft morning and showed the importance of teaching artistic skills to further develop and enhance our work.
Phonics
We have already founded our love for all things phonics!
At Elland C of E, we follow Ruth Miskin's 'Read Write Inc' and have enjoyed spending time with Fred the Frog who taught us the game 'splat it'
The children then enhanced this activity during our 'busy jobs' by adding a timer to test their speedy sounds.
We really do have a can do attitude!
Godly Play
During Mrs Greenwood's Religious Studies, the children learnt about the bible story of 'Jesus Blessing the Children'. The children were then invited to explore the small world play during their 'busy jobs' and re-tell the story in their own words.
Mathematics
Our mathematics lessons have been based around the mathematical concepts of matching and sorting.
We have enjoyed matching socks, numicon and pigs!
We have also explored matching in different ways such as matching sounds created by instruments and sorting pompoms by colours during our 'busy jobs' to consolidate learning.
We have encouraged the use of correct terminology so that our students can discuss why items match in detail promoting language development and reasoning.
This is no Ordinary Stick....
Our Power of Reading book this term is 'Stanleys Stick'
As part of our work, we collected a range of sticks for the children to explore. They were then invited to create and interpret their stick whatever way their imaginations would let them.
Some of the children created wands, broomsticks, walking sticks and marshmallow toasters.
Links to curriculum:
Being imaginative and expressive art and design.
Queen Elizabeth II
As a mark of our respect to Her Majesty Queen Elizabeth II our Early Years Foundation Stage wanted to pay their respect to her legacy and hard work throughout her rein. Today we enjoyed a traditional English Afternoon tea in which we discussed our memories of the Queen and described the factors that made her so highly thought of throughout the world. Our pupils then went on to decorate pictures which they can treasure for the rest of their lives. At the end of the day, we gathered together and lit a candle in remembrance of our queen and so that "God's light can guide her to heaven"
"I really liked the dresses she wore" said one student.
One pupil said "She has a crown on her head and the king were so sad" when talking about the funeral cortege
What a brilliant start to the new academic year!
Say hello to our new pupils who are at the beginning of their learning journey.
Our Early Years foundation stage have settled into their new learning environment with great curiosity and excitment!