What we've been doing…
Letters To Beegu!
Year 1 have been thinking of ways to get in touch with Beegu's parents. They decided that a letter was a good way to make contact. For their extended writing session, the children wrote a letter in character as Beegu. Four letters were chosen, which were then attached to a helium balloon. Year 1 took Beegu outside and released the balloon. We are all hopeful that the letters will be delivered to Beegu's parents safely!
Golden Ballon Treat
For their "Gold Balloon" treat, Year 1 voted to have their faces painted. Miss Sierota kindly brought in her face paints and the adults painted a range of faces from Spiderman to rainbows! What a lovely afternoon!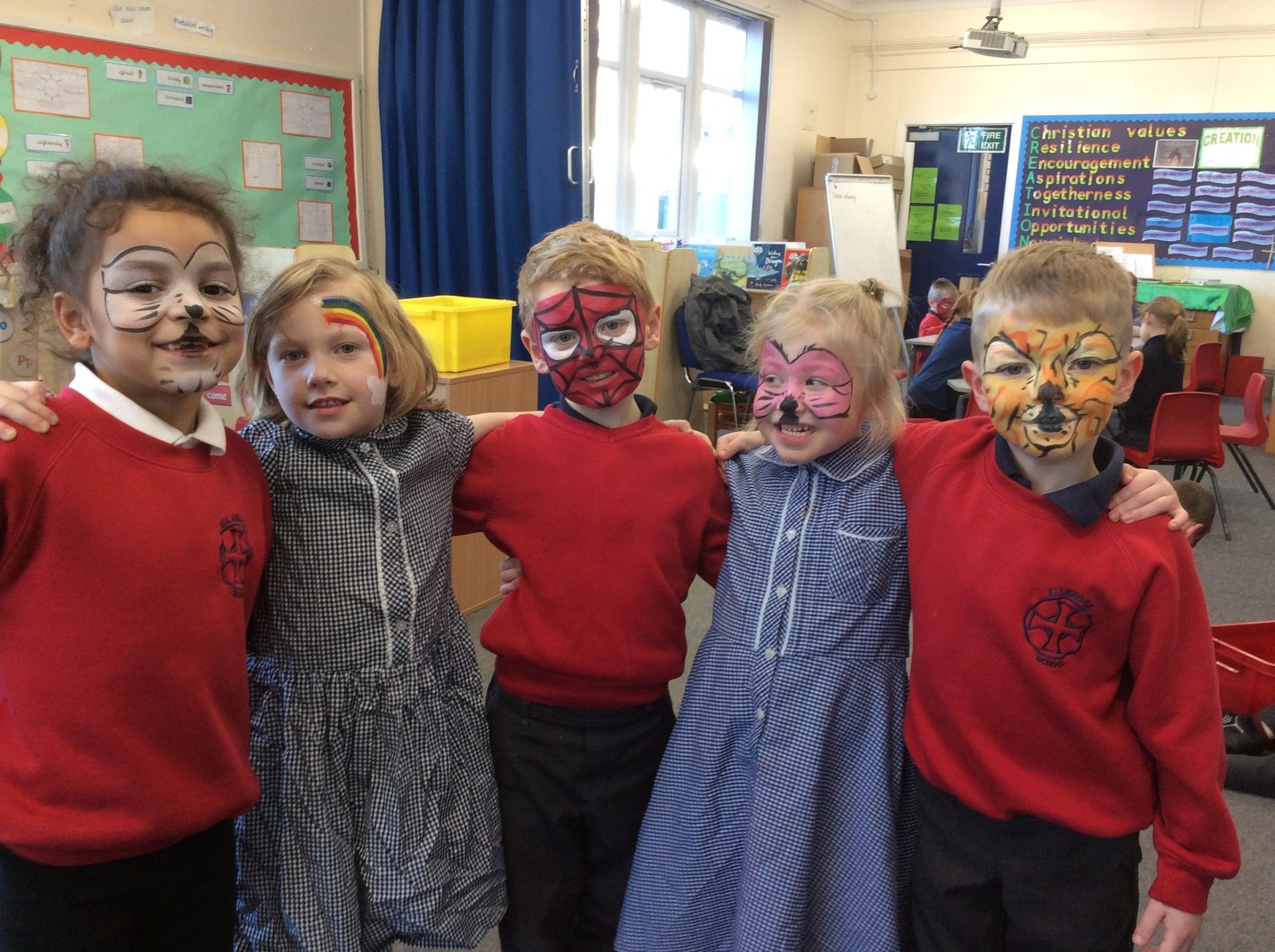 Bikeability
Here are our photos from the Bikeability session.
Busy, Busy!
Year 1 have been really busy this week so thought we would send you some pics.
The children were set some homework to design or make a rocket as we are learning about Neil Armstrong and the first moon landing. Here are all the children that completed their homework along with their fabulous efforts!!!
During our music lesson on Thursday, the children had a MOG moment (Moment of Ordinary Grace) when the spied a rainbow out of the window! We all rushed to have a look at it and then made a wish! Let's hope they all come true!
Once we had settled down, we were then able to concentrate on playing our musical instruments. This is the first time that we have used the glockenspiels in our lessons and the children were fantastic!
Beegu
Year 1 were shocked (and excited!) to find that a creature had crashed through the ceiling and landed in our playdough area!!! We have since found out that our new friend is called Beegu, but we still have lots of things we want to know...Is Beegu a boy or a girl? What happened? Where are Beegu's parents? We look forward to finding out more about Beegu over the next few weeks during our English lessons.
A Sensory Journey
This week, Year 1 went on a long journey to Bethlehem after hearing the good news that a new baby had been born!!! When we arrived at the stable we sang a verse of Away in a Manger to baby Jesus. Then we used a senses grid to record what we might have seen, smelled, touched and heard on the night of Jesus's birth.
Phunky Foods
Recently, Helena from Phunky Foods came to work with children and parents in Year 1 to make "Overnight Breakfast Oats". Along with 2 of our Phunky Foods ambassadors, they enjoyed learning about the sugar content of different cereals and then working together to prepare their overnight oats. 11 parents took the opportunity to come and work with their children and had a great time! All food and resources were provided free of charge!
Getting A Taste For Science
Recently, Year 1 took part in a tasting test with Mrs Iwanowski as part of their Science work this half term. They tried some vinegar, oranges, jam, milk and raspberry juice! They had to write up their experiment and describe the different tastes.