What we've been doing…
Viking Longships
To start our new history unit off, we have learnt all about Viking longships. In our first lesson went outside and drew a Viking longship to scale. The children then transformed into Vikings themselves and experienced how tiring rowing could be!
In our second lesson the children learnt about the importance of sails on ships and the various designs throughout history. They then created their own sail to place on their 'Viking boat' and sail across the 'sea'. The best sail in class was made by Caleb who won a packet of Viking longship sweets as a prize!
Dissecting A Flower
At the end of Summer one, Year three looked at plants as part of our science unit. They learnt about what plants need to survive and the different parts of a flower. They had lots of fun dissecting some lilies and labelling each segment.
The Boy At The Back Of The Class
Throughout the summer term, Year three have been looking at a book called The boy at the back of the class. They have thoroughly enjoyed it and have really gotten behind the characters and the storyline. It will be so sad to finish the book in the coming week but here are some pictures of activities we've done whilst exploring the book.
Forensic Science
Year three learnt what it means to be a forensic scientist. They were provided with four crime scenes and had to work collaboratively to determine who the culprit was. I think we have some budding scientists in the class now!
Pop-up Shop
During our Maths intervention on Tuesday, we set up a 'pop-up shop' filled with lots of delicious sweets. We were focusing on giving change, so each child had to calculate the total cost of their spend and the shopkeeper had to calculate the change. They even got to take their 'shopping' home with them as a reward for their hard work!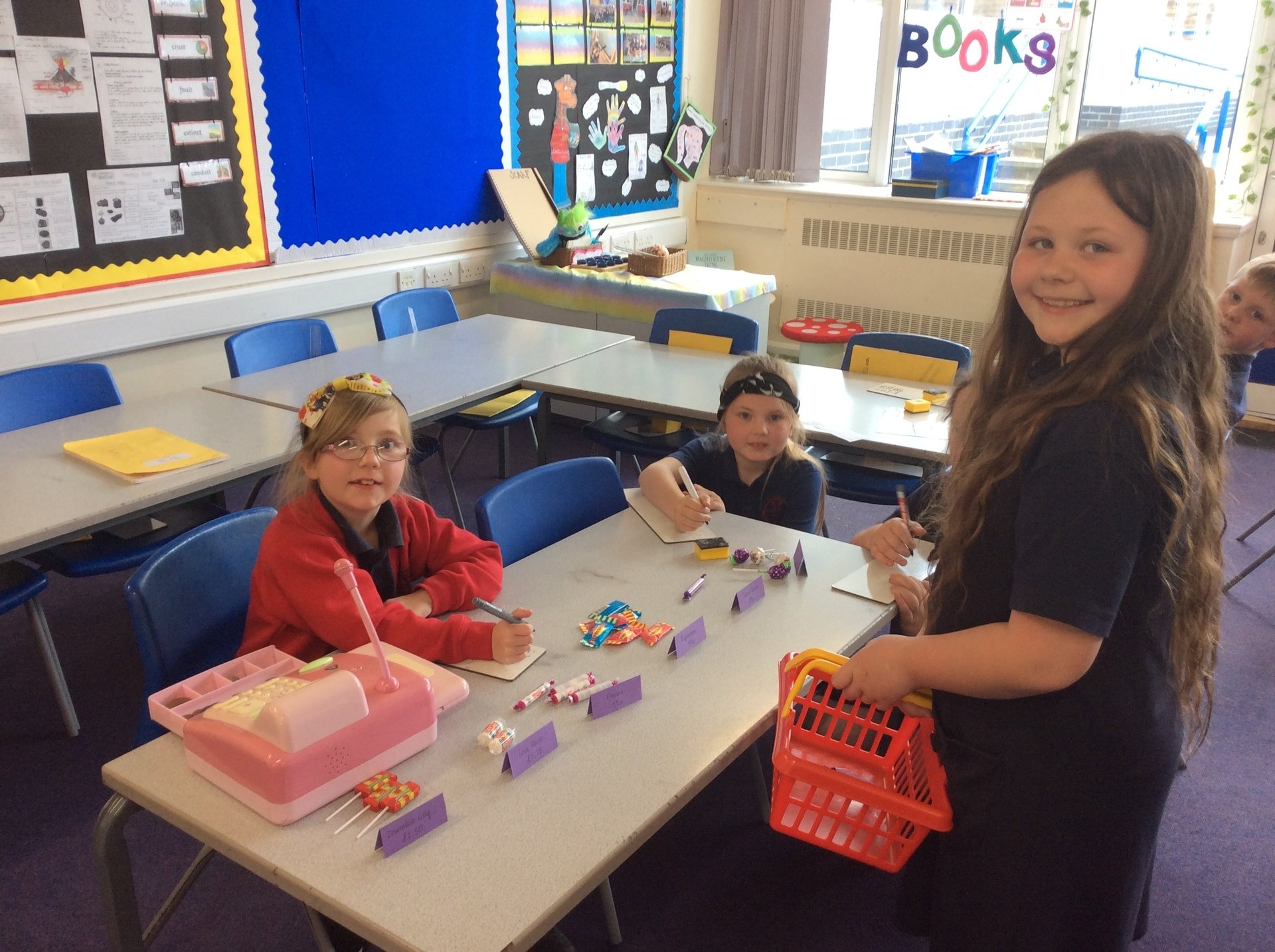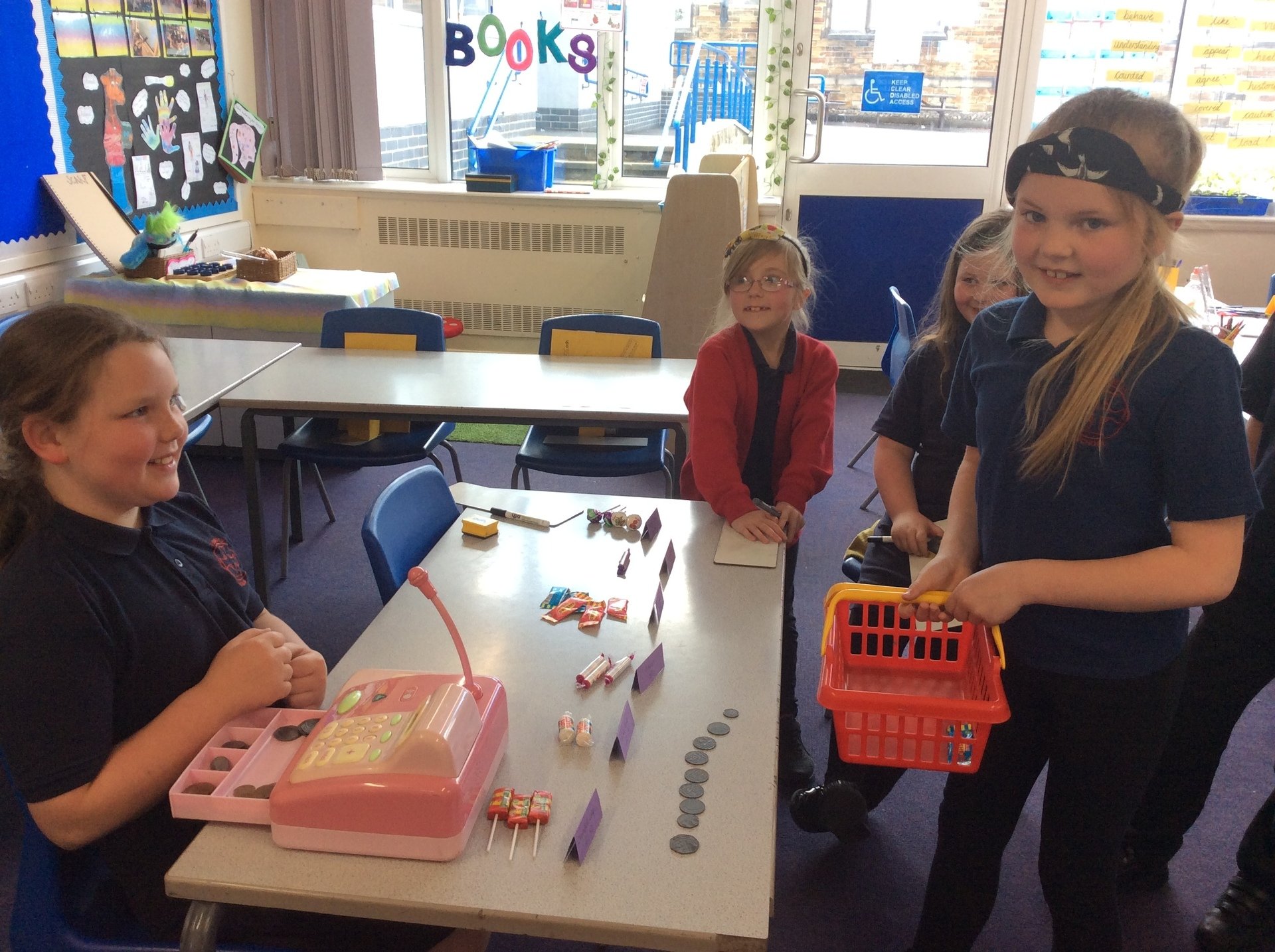 Writing On The Table!
Year 3 had an interesting English lesson on Tuesday where they got to write on the table! They recorded examples of direct speech from our book 'The boy at the back of the class' and used macaroni for the speech marks! The children absolutely loved it but I'm just hoping they remember to use their books tomorrow!
Red Nose Day Winning Joke
What A Good Day!
Year 3 had a wonderful day celebrating our Ofsted result on Wednesday. We thought about what's good in our lives, had a very special zoom call with Josh and played a game of BINGO! Josh had us shouting, dancing, searching for missing objects and on the whole being very silly! What a GOOD day.
World Book Day
Something very strange happened in Elland C of E on Friday. All the pupils in Year 3 disappeared and in their place stood superheroes, witches, wizards and a very spotty dalmatian! They were all very excited to be in the classroom and completed lots of games and quizzes!
Ancient Monuments
After researching Stonehenge in class, year three were challenged with creating a model at home. They were given the freedom of what resources they used and we had some fantastic results! Children have used straws, tin foil, boxes, clay, Play-doh and even biscuits! I am super proud of their creations.
Back Again!
Following our previous lesson, the children were given a challenge - to figure out what Stone Age people ate. To do this, they had to excavate some Stone Age poo and figure out what their diet consisted of! As you can tell by the look on their faces...they loved it!
Back In Time
Year 3 travelled back in time to the Stone Age on Tuesday. We learnt all about the palaeolithic period and the evidence which has been left behind. The children then took this information and worked in groups to create some fantastic cave paintings!
Shadow Puppet Theatre
On the last day before half term, Year 3 put on a spectacular shadow puppet theatre. They took inspiration from our book 'Arthur and the golden rope' and told the story of his mighty adventure across the Artic ocean through shadow puppets!
The Adventure Continues...
Year 3 have been following the adventure of Arthur Brownstone - the unlikeliest of heroes. During Arthur's adventures, a monstrous black wolf attacks the Icelandic town he lives in. In response to this Year 3 have created some wonderful freeze frames to show what happened before, during and after the attack.
Professor Brownstone Competition
On Friday 18th September Year Three entered a competition to visit the Brownstone family vault. On Monday we received a very special letter and delivery addressed to us all. The letter explained how we are all worthy winners but unfortunately, due to current circumstances, we cannot enter the vault. However, Professor Brownstone has very kindly sent us three artefacts to observe and his letter told us the history of each one.
Useful documents