What we've been doing…
Ledston Hall
Year 6 visited Ledston Hall where they participated in team activities, The children worked together to ensure that the goal was achieved. A walk through the woods after a picnic lunch led to shelter building which staff and children thoroughly enjoyed. A great day was had by all.
We Are Sculptors
Year 6 have been looking at sculptures in art, they have especially been looking at the creations of Henry Moore and Alexander Calder as these two artists have very different styles. The children have designed and created their sculptures from clay. We think we have some very talented Year 6 children
The End of SATs Week
Working Together
Tom from West Yorkshire police came to visit Year 6 . As part of our PSHCE we have been completing the Pol Ed lessons that have been designed by West Yorkshire police, the children have been looking at human rights, managing stress, responsibilities and how to keep safe. Tom looked at the work the children had completed and brought both children and staff gifts.
Homework Reward
These year 6 children have received their second homework reward from Miss Hartley for completing twenty pieces of homework keep up the good work Year 6.
Kindness Workshop
The ladies from Timeout have been to Year 6 to deliver a workshop about Kindness, Friendship and Social Media . the children looked at how being kind makes us feel, they looked at the positives of seeing our friends in real life and how this can be beneficial fr our health and finally they listen to a real story about Cyber bullying. Year 6 really enjoyed their session.
Is It Healthy?
Year 6 have been collecting food packaging as part of their Body Health topic in science. The children have recorded the nutrition content of different types of food and making a decision as to whether the food is healthy or unhealthy using the knowledge they have gained during the topic . The children were quite surprised that some foods they thought were a healthy option turned out to be unhealthy.
Philippe Petit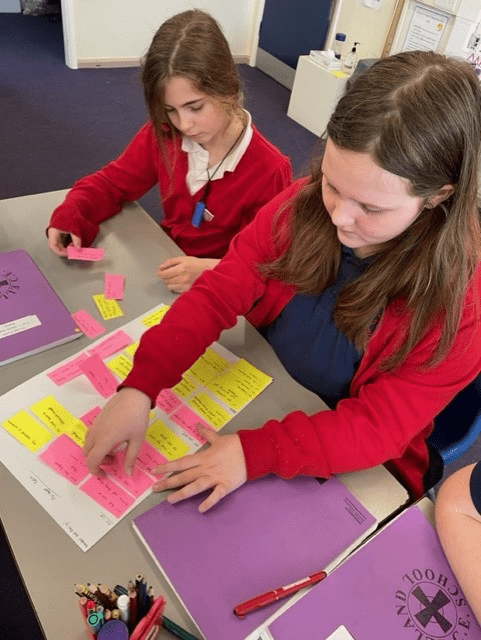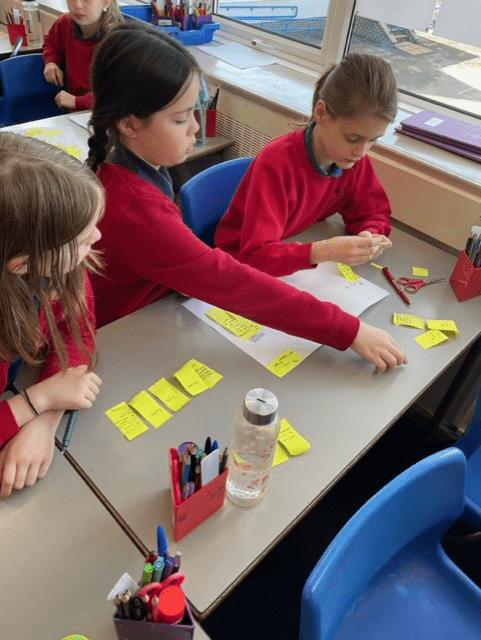 Year 6 have been researching Philippe Petit - the man who walked between the Twin Towers.
They used post it notes to gather their information and then organised them under sub-headings. The children worked in pairs to do this and then used their notes to write a fact file about Philippe independently.
Writing, Writing Everywhere!
Mrs Bedford was extremely impressed with their work today, just look at the amount of work they are producing. When you looked around the room, all you could see was 'writing!'
The children are writing a story based on a film clip. Mrs Bedford has only shown them a few minutes of the clip so far, the children had to write what happened next. They have loved this so far and this is apparent in the quality of their writing. Well done Y6!
Veggie Burgers
In design technology year six have been creating veggie burgers. they have designed their own ideal burger drawn and labelled it.
In the practical session of the topic we have discussed and practised good hygiene and why this is extremely important in the preparation of food. The children have also been taught knife skills to show them how to chop several different vegetable correctly and in a safe way . The vegetables were cooked and made in to the veggie burgers, both children and staff really enjoyed the tasting session some children even had seconds.
Gold Award Reward
Here are a few photos from the Year 6 Gold Reward. The children had lots of fun having some free time in the park and some of the children had a game of football. It was great to spend time in the fresh air.
The Body Pump
As part of their Body Pump topic in Science the Year 6 children have researched the different components that blood contains, what their function is and how each one is important. Using this research they have produced some amazing fact files and also collected the ingredients to make blood soup.
Young Playwrights
Year six have been looking at an extract from their class book 'There's a Boy in the Girls' bathroom' . They changed the text from a narrative into a playscript, this included adding characters names and stage directions and setting their work out correctly. The children did a fantastic job and had lots of fun doing it.
Send A Friend A Card Day
After seeing a post on social media (see below) I asked my class if they would like to make and send a card to the residents of Lindley Care Home for 'National Send a Friend a Card Day.'
They have made some lovely cards and have written some messages inside. Some children looked online to find suitable quotes to write inside. They enjoyed doing this.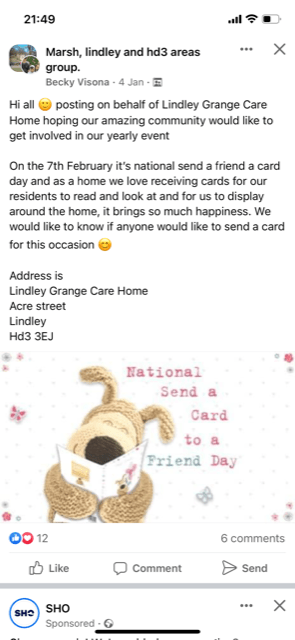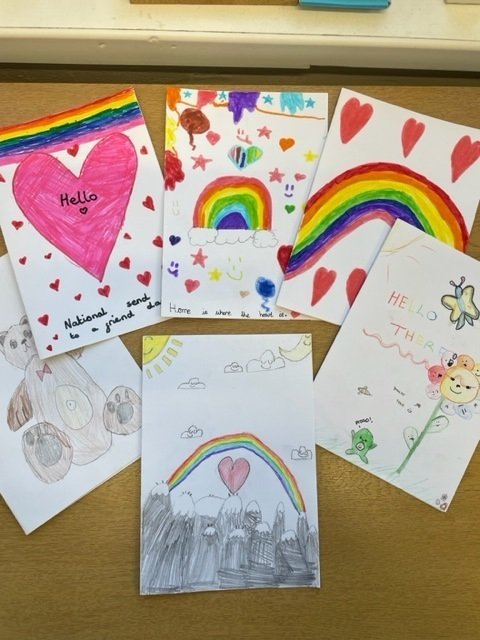 Sleep and Well-Being
Year sleep took part in a sleep and well-being workshop last week. The children worked in groups to identify things that could keep them awake and what they could do to help with this. They also looked at how lack of sleep can harm their well-being.
Homework Award
Theses children are the first in the school to receive their homework awards from the Headteacher for completing their homework every week for the last ten weeks.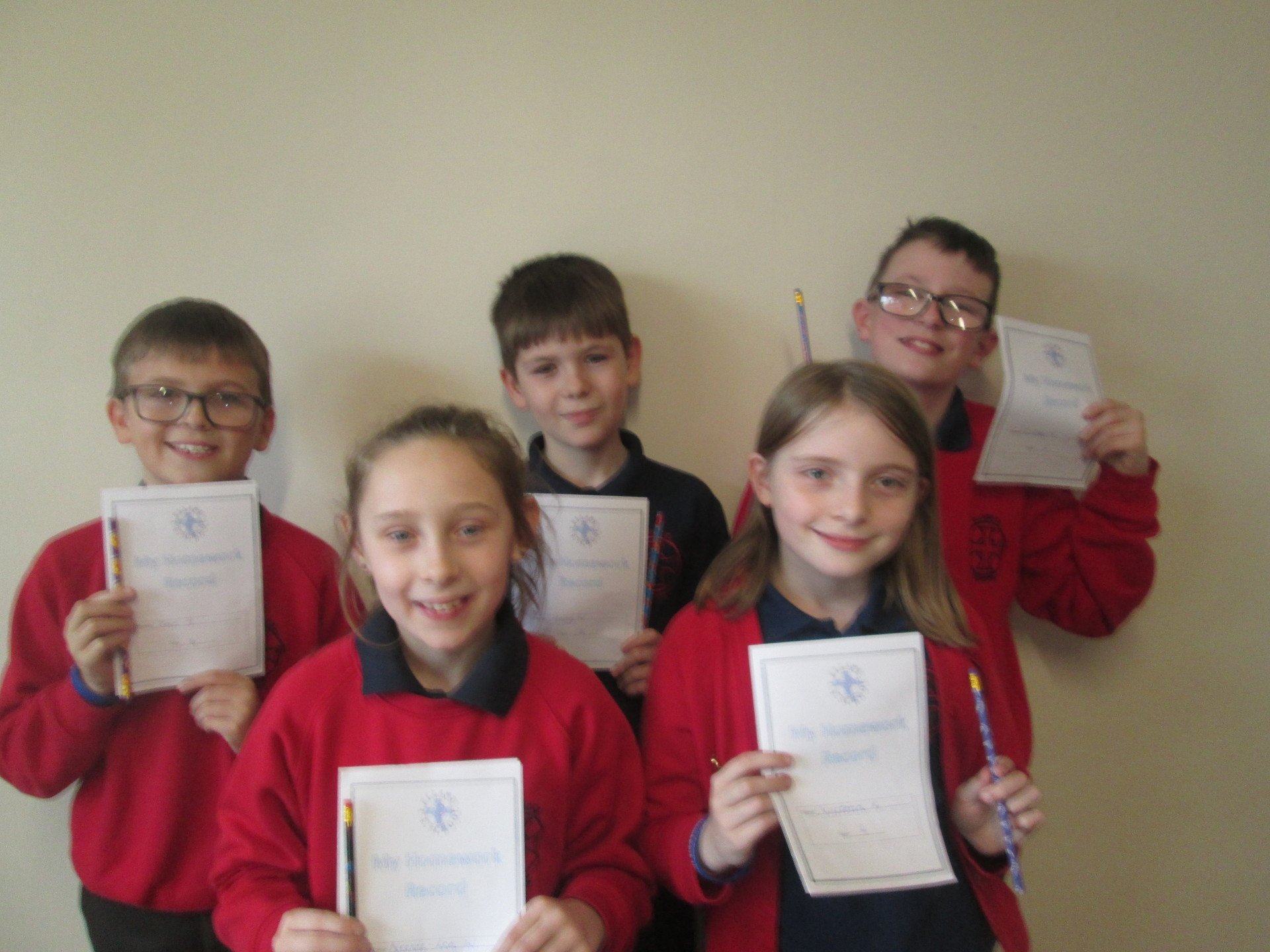 Science
Year 6 have been looking at circuits in science. They have been learning the scientific symbols for the different components and what is needed to light a bulb in a circuit. The children were given tin foil. a battery and a bulb and as a group asked to create a circuit with the bulb lit. They all worked well together to create these and one group even went on to light two bulbs in their circuit.
Our Class Book
In English Year 6 are reading a book called 'Stay where you are and then Leave' which is a story about love and war. We have been thinking about what qualities a soldier needs to have and have written recipes to make a soldier. This all relates to our History topic about World Wars and what perfect timing for Remembrance Day.
Lest We Forget
Year 6 have attended the remembrance service in the square today to show their respects. This event has tied in with the children learning about both World Wars and the class book 'Stay where you are then Leave'.
Design Technology - Day of the Dead
Here are some photos from Year 6 who have designed and created a Day of the Dead mask they have worked hard using three different stitches (running stitch, cross stitch and overlay stitch) to bring their design to life.
Park Lane Follow-up Work
The children loved the experience of spending a day in a Secondary school. They not only had different lessons but they got to have lunch and mix with children from across the school at lunchtime.
They learnt about how different 'Laws' are created and how the voting system works. In Art they used wax to create art work in the style of Yayoi Kusama (a famous Japanese artist) They and had a fantastic PE lesson and Maths lesson where they used prepositional language to describe how they had made a 3D object.
It was great for the to meet staff from across the school. Even those not involved in the taster day popped in to say hello, which was lovely.
Park Lane Taster Session
Here are a few pictures from our day of taster sessions at Park Lane High School. The children and staff had lots of fun and thoroughly enjoyed the day. This gave the children a little taster of what high school will be like.
Debugging
Lola-Jo was the first to finish the 'Chimp Level Debugging Challenge' during our coding lesson.
Macaulay helped Neevie-Lea on the 'Gibbon level' which was really challenging.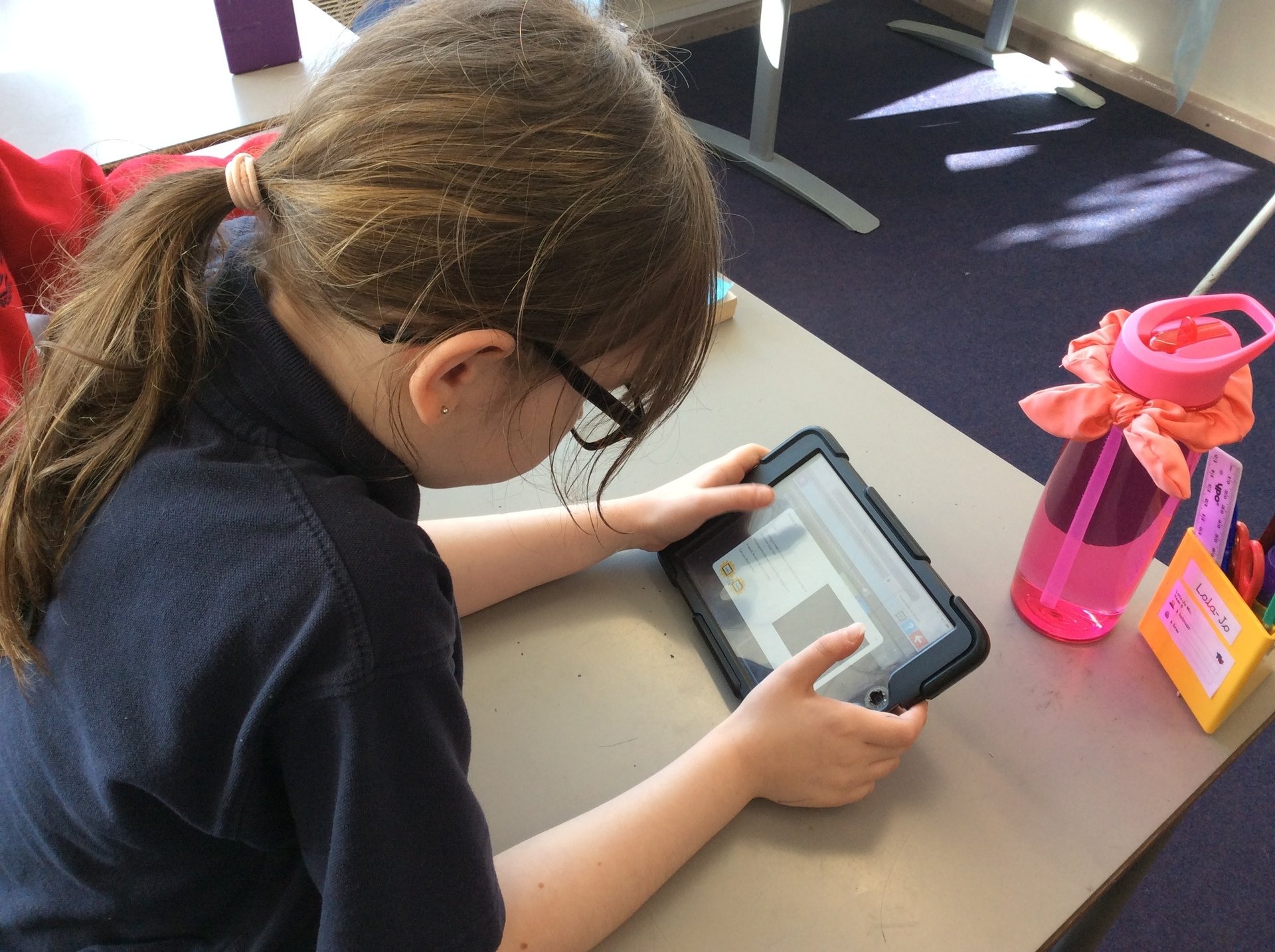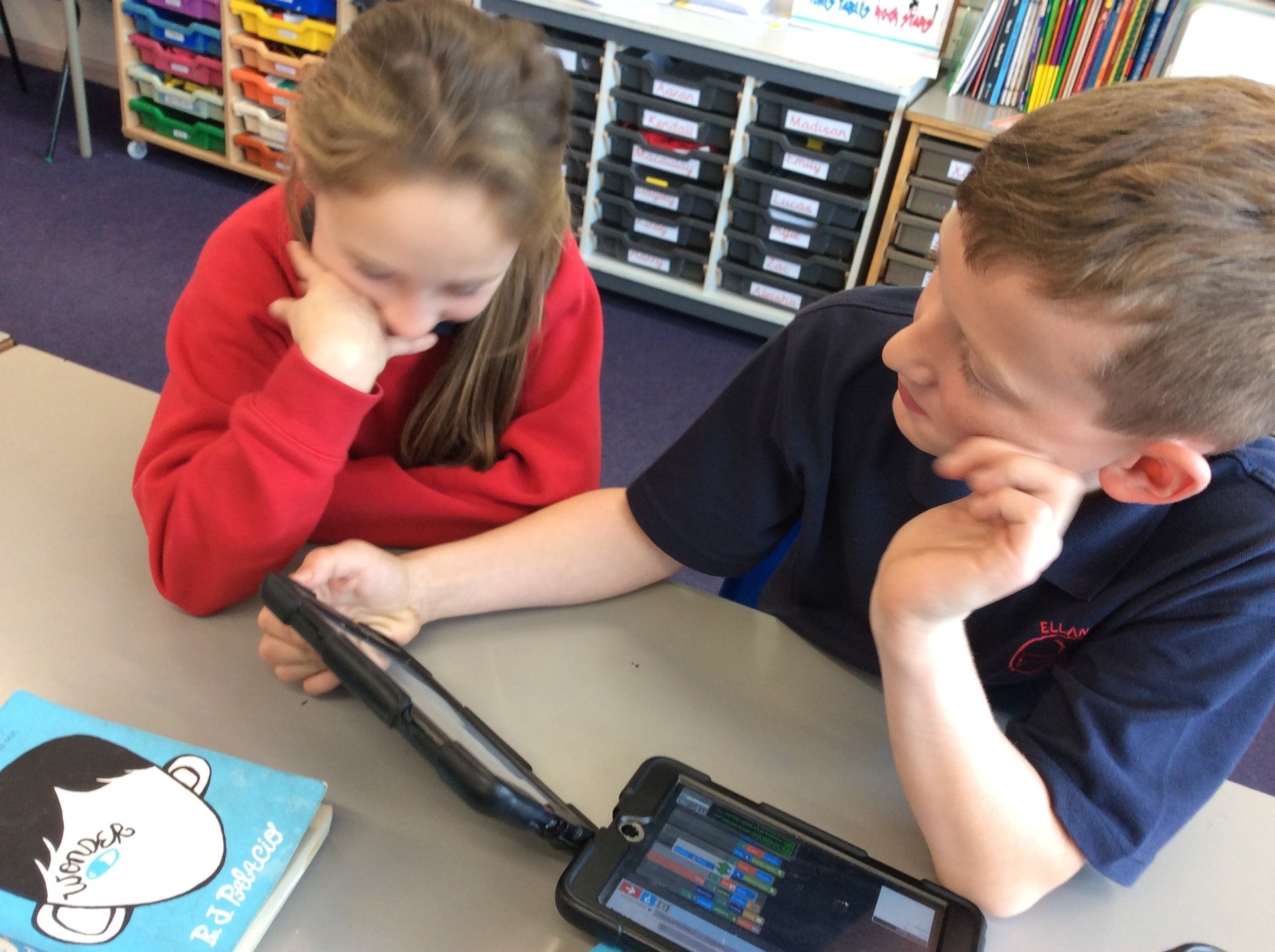 RE Homework
In RE we have been looking at the creation story and how the universe came into existence and recording our thoughts and opinions. As part of their home work this week Year 6 were asked to think about what the universe would look like if they had created it.
NIcole created these wonderful badges and Madison produced an amazing piece of atr work. Well done girls .
Light up your World
In science the topic for 6 is Light up your World. The children have been investigating how their reflection differs in a concave, convex and flat reflective surface and why they are different they have then recorded their findings.